In recognition of the World TB day commemorations, Diagnostic Laboratory Suppliers hosted a TB Symposium which was held at Holiday Inn, Harare on the 25th of March 2015. The event was scheduled to coincide with the World TB day commemorations which are held on the 24th of March every year and aimed at updating health practitioners and stakeholders spear heading fight against TB campaigns on Tuberculosis (TB) drug resistance testing.
TB is a life taking condition if not properly managed. TB is an airborne (spread through air) bacterial disease caused by Mycobacterium Tuberculosis that mainly affects human lungs. It is spread from an infected person with lung TB through coughing, spitting and sneezing which releases the small germs (bacteria) into the air. If an uninfected person breaths in this air he/ she will become infected as well. The main symptoms are persistent cough, hot body, night sweats, loss of weight and some swelling in any part of the body. About 95% of TB cases occur in developing countries and in 2013 Africa had the greatest number of new infections. Everyone has a chance of contracting TB but risk is higher in smokers, HIV infected individuals, children less than five years and those suffering from immune system impairing conditions. If treatment is prescribed on time and correctly, TB is curable.
Key facts About TB
Tuberculosis (TB) is second only to HIV/AIDS as the greatest killer worldwide due to a single infectious agent.
In 2013, 9 million people fell ill with TB and 1.5 million died from the disease.
Over 95% of TB deaths occur in low- and middle-income countries, and it is among the top 5 causes of death for women aged 15 to 44.
In 2013, an estimated 550 000 children became ill with TB and 80 000 HIV-negative children died of TB.
TB is a leading killer of HIV-positive people causing one fourth of all HIV-related deaths.
Globally in 2013, an estimated 480 000 people developed multidrug resistant TB (MDR-TB).
The estimated number of people falling ill with TB each year is declining, although very slowly, which means that the world is on track to achieve the Millennium Development Goal to reverse the spread of TB by 2015.
The TB death rate dropped 45% between 1990 and 2013.
An estimated 37 million lives were saved through TB diagnosis and treatment between 2000 and 2013.
(Adopted from WHO TB Report fact sheet 104, updated March 2015)

Due to extensive treatment and default in treatment, some strains have become resistant to first line and more fatally both first line and second drugs in what are termed multi-drug resistant (MDR) and extensively drug resistance (XDR) -TB respectively. The resistance arises due to mutations within the bacteria itself. The focus of the symposium was mainly on Line Probe Assay (LPA) of Hain LifeSciences platform that detects resistance to any of the first line drugs in TB treatment, Rifampicin, Isoniazid and Ethambutol. It can further detect resistance to aminoglycosides and flouroquinolones that are used as second line drugs in TB treatment. In addition, the LPA system can test for other TB related causing agents besides mycobacterium tuberculosis and is a molecular Polymerase Chain Reaction (PCR) technique. The set of equipment include GenoCycler for amplification, the GT Blot 48 for hybridisation and a Genoscan for evaluation and result interpretation.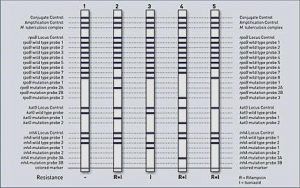 First speaker was Dr Magaretha DeVos of Stellenbosch University in South Africa. She presented on Hain Lifesciences' LPA system highlighting how the test is run to detect both MDR and XDR TB. The new and faster technology which is still under research was also introduced to the attendees.
Second presentation on Implementation of LPA (MDR, XDR TB) Testing in Zimbabwe was given by Mrs Ellen Munemo of the National Microbiology Laboratory of Zimbabwe. She clearly explained the indications of MDR and XDR testing and updated attendees on how the Hain Lifescience platform is being used in Zimbabwe. She urged any suspected treatment failure and TB relapses cases to have samples referred for appropriate testing that will aid in them receiving significant numbers to screen for MDR/XDR TB. This will in turn assist in effective treatment and health care delivery to TB patients
Dr Ngcuka of Far East Rand Hospital in South Africa gave the third and final presentation on Management of MDR and XDR TB. He emphasised on the importance of assessing continuously renal function and performing audiometric tests when managing a patients who are put on second line TB therapy. Dr Ngcuka also passed his sentiments on the need to protect staff such as nurses by having designated isolates for patients with drug resistant TB which is also important in preventing the spread of the condition.
There was a huge turn up and the relevance of the event was commended by a panel of specially invited guests who included Guest of Honour the Director of Laboratory Services in the Ministry of Health and Child Care Mr Mangwanya, Dr Sandy Deputy Director of AIDS and TB Unit in the Ministry of Health and Child Care and Professor L. Gwanzura of the University of Zimbabwe. In his closing remarks Mr Mangwanya highlighted the significance of educative events in keeping health personnel abreast with modern and efficient methods of diagnosing diseases. He further reiterated that it is significant to know what is happening in the medical fraternity both locally and regionally, in this case learning from South Africa. He also gave special thanks to members of the Ministry of Health and Child Care, invited speakers, moderator Professor Gwanzura, Gift Tsetsane representing Hain Lifescience South Africa, Diagnostic Laboratory Suppliers team and all attendees for their remarkable efforts in making this event a success.
Diagnostic Laboratory Suppliers is a distributor of laboratory equipment, laboratory reagents, and point of care diagnostics, medical consumables and surgical instruments. It has worked hard in supporting national programmes in fighting against epidemic and endemic diseases. Diagnostic Laboratory Suppliers also offers after sales support of user training and technical service for the goods they supply anywhere in the country. It works with renowned manufacturers namely CAVIDI (Sweden) for HIV Viral Load Testing, Premier Medical Corporation (India) for first response rapid test kits, Hain Lifesciences (Germany) for TB MDR and XDR testing and Rapid Cryptococcal Antigen testing, R-Biopharm (Germany) for allergy screening and stool antigen testing, Human Diagnostics Worldwide ( Germany) for laboratory, point of care devices, reagents and medical consumables, MAST (United Kingdom) for microbiology reagents and lastly the latest partner Microline (U.S.A) for surgical instrumentation in minimal invasive procedures. With all these on board Diagnostic Laboratory Suppliers has managed has managed to distribute sustainable solutions for quality health service delivery.