In support of academic seminars, Diagnostic Laboratory Suppliers sponsored a Laparoscopic Workshop which was organised and hosted by University of Zimbabwe College of Health Sciences Department of Surgery in conjunction with the Department of Veterinary Sciences. The well attended two day workshop aimed at equipping surgeons, upcoming surgeons and nurses with skills for performing laparoscopic procedures. Renowned surgeons demonstrated their expertise.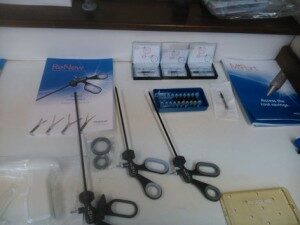 Laparoscopic surgery, also known as Minimal Invasive Surgery is a modern surgical procedure which aims at reducing pain, bleeding and tissue deformation by performing surgery through 'key hole' openings on the human body. The procedure has proved to improve patient outcomes. Patients heal faster than with open surgery and therefore period of hospitalization is reduced.
Diagnostic Laboratory Suppliers partnered with Microline Surgical in September 2014 to expand its product basket to include surgical instruments with the current focus being on Laparoscopic surgical instruments. We have been in medical supplies business over the past 17 years and distribution of high quality products has remained cornerstone in Diagnostic Laboratory Suppliers' service delivery.